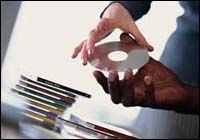 When it comes to business communications services, we can do it all. With a complete range of products and services at your disposal, we can help you get your message out to customers, employees and vendors alike.
Using the latest printing and document management technology, we handle your projects from start to finish. Our energetic and experienced staff is dedicated to delivering what you need, when you need it.
Below is a sampling of the products and services we provide. To learn more about what we can do for you, contact one of our representatives today.
Products
You can search for and order online over 1,000,000 give aways such as pens, mail openers, key chains, mugs or calendars for your company. Advertising specialty items are an effective, affordable way to get your name out and in front of your clients!

Law Enforcement Membership CardsAs one the top suppliers of credit card type Law Enforcement Membership Cards, we can provide for you high quality 30mil laminated full color cards for your organization. We currently provide cards to many State and Local organizations including Nassau County Detective's Association, NYSFOP Lodges, Nassau County Fire Marshal Benevolent Association, NYPD 10-13's and many other. We have saved all of our customers money by giving them a superior product and a discounted price. Call us to save money for your organization too!
Services